Apply Form
Start the application process by gathering all the information needed to start doing your due diligence.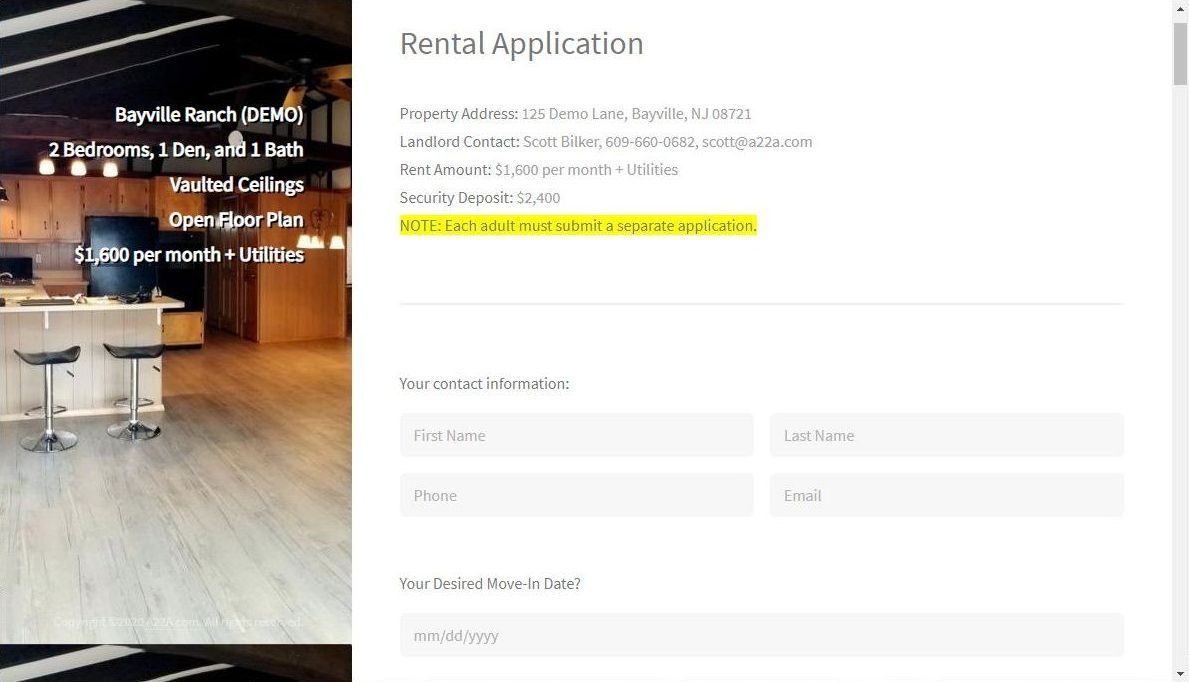 Starting the Application
Once you have excited and pre-qualified potential tenants, you can send them to this form to start their application. This is the long form for you to gather everything you need to start making phone calls and verifying their basic information like employment, income, etc. Of course, you should always do a credit check and criminal background check; however, I have found that I only need to have that done last because all the information gathered by this form is enough to help eliminate people before that final step.
You can use any questions you like. The questions I use are:
Contact Info: First Name, Last Name, Email, and Phone
Desired Move-In Date?
Social Security Number
Driver's License Number
Date of Birth
Number of people living in the property
Number of Adults living in the property
Rental history with prior landlord contact information.
Employment information with supervisor contact details.
Other income.
How long do you plan on living in the rental?
Do you, or anyone that you would be living with if you rented the property, own any pets?
Do you, or anyone that you would be living with if you rented the property, have any felonies?
Do you, or anyone that you would be living with if you rented the property, smoke?
Checking account bank name.
Have you, or anyone that you would be living with if you rented the property, broken a lease agreement?
Have you, or anyone that you would be living with if you rented the property, ever had an eviction filed against them?
How many vehicles will be parked at the rental property?
What would limit your ability to pay rent?
First month's rent and the security deposit total $4,000, which is required to secure a lease. Do you have that amount available?
Why should your application be accepted for this rental property?
Additional comments.
I also include a statement that must be acknowledged, as well as a list of the rules, and they must sign digitally before submitting the application. You can have anything you'd like, however, this is what I have:
PLEASE READ CAREFULLY AND SIGN IF YOU AGREE
I warrant, to the best of my knowledge, all of the information provided in this Application is true, accurate, complete and correct as of the date of this Application. If any information provided by me is determined to be false, such false statements will be grounds for disapproval of my Application or termination of my Lease with Owner.

I understand and agree that: (i) this is an application to rent only and does not guarantee that I will be offered the Property, and (ii) Landlord or Manager or Agent may accept more than one application for the Property and, using their sole discretion, will select the best qualified applicant. I hereby authorize the Landlord or Manager or Agent to verify the information provided and obtain my credit report.

Required standards for qualifying to rent this property include but are not limited to:
Each adult occupant must submit a separate application and copy of driver's license or ID.

Each adult occupant must complete, and pay for, an online credit/background check.
No pets allowed.
No smoking allowed.
Gross monthly income must be equal to three (3) times, or more, monthly rent.
Must be employed and/or be able to furnish acceptable proof of required income (pay stubs, bank statements, W-2's, and tax returns).
Must have good credit history.
Must have good housekeeping, payment, and maintenance references from all previous Landlords.
This property is offered without regard to race, color, religion, national origin, sex, disability or familial status. The applicant authorizes the release of all information to Landlord and agrees that the information provided in this rental application is true and correct.
Once they complete and submit the form, you will immediately get a text notification and a Lead Email with all the information (example here).
Also, be sure to read more about screening tricks for Google, social media, and court records, on our blog by clicking here.
You can see the entire DEMO site LIVE and check out exactly how the forms work, by getting the live demo link here.
Your Lead Email
Once your potential tenants submit the application form, you will immediately receive a text notification and all the form information by email. This is what that email looks like: